A First-Timer's Guide
Written for all, from the perspective of a First-Timer to Fist Fest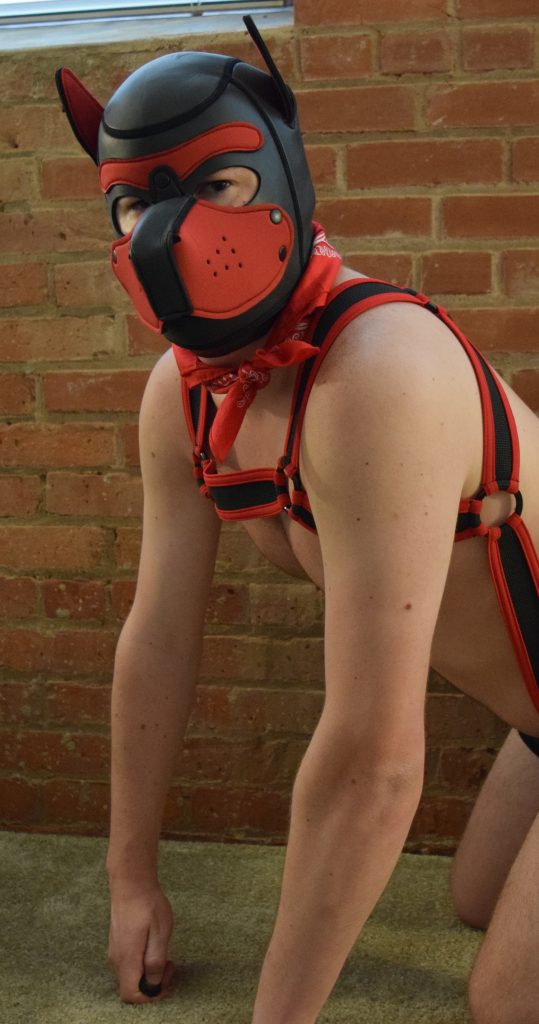 Hello, My Name is Pup Kibbles
I'm a 23 year old, Vers-bottom Pup that is into fisting, bondage, spanking, and toys. Most of the time I enjoy laying around with my tail in and my hood on. I'm currently located in North Central Connecticut. You can find me on Recon, Asspig, Fetlife, and Twitter.
What To Expect
Hotels & Passes
Parliament Resort vs. Exectuive Inn:
Both Parliament and Executive Inn are owned by the same operation. The difference is Parliament is surrounded by a privacy fence, so it is clothing optional location, this is also where public play areas, pool, and event locations are. Compared to the Executive Inn, which is located about 100 feet outside the privacy fence. Also the rooms are a bit bigger in the Executive Inn section.

Weekend Passes:
To attend Fist Fest, you have to purchase a weekend pass, this gets you access to Fist Fest events, drinks, during specific times all weekend, access to public play areas, some supplies, and the pool area. This comes in the form of a dog-tag and must be worn at all times. I suggest to purchase this in advance, as you can use a credit card, plus it's cheaper than on site. I also suggest buying your pass first, then booking your room, because they will need your confirmation number toa dd to your room reservation.

When I first arrived at Fist Fest, I didn't know a single person. I knew people from their online profiles, and spent my first few hours trying to figure out what screen name went with each person's actual name. Despite my fears, I was surprised by how friendly, welcoming and caring every single person at the event was. My biggest takeaway: The key to Fist Fest is to step out of your comfort zone and just introduce yourself to others. I made friends that will last a lifetime, and I look forward to seeing them at future events.

Another wonderful aspect of Fist Fest is the freedom of knowing you will not be judged for any reason. Still being new to the fisting community, my skill level as a bottom might not be as high as some of the others I played with, but they always understood that it takes time and practice, and that one day I will be there. They took it slow with me, and offered plenty of tips and tricks to improve my skills, not only as a bottom but also as a top as well. This put my mind at ease, knowing I was in good hands (no pun intended), and had nothing to worry about.

Other Thoughts

Even though there is a schedule for the weekend, take things at your own pace. I would suggest for your first event, consider getting a room to yourself. This allows you to have a space to decompress, or just have some alone time. Another suggestion is to bring a close friend or companion along with you for support.

Find someone you trust or know and let them know where you are, and if they don't hear from you they know to check in on you. Something I would suggest is reaching out to others beforehand. For example, having a chat group, a text friend, a neighbor, etc. just to have someone who keeps you in mind.

Additional Important Information
Local Shops & Locations
Atlanta International Airport

6000 N Terminal Pkwy
Atlanta, GA 30320

Augusta Regional Airport

1501 Aviation Way
Augusta, GA 30906

Big Lots!

406 East Martintown Rd
North Augusta, SC

Sunrise Grill
Big Southern Breafasts
404 E Martintown Rd #4
North Augusta, SC 29841

PetSmart

310 E Martintown Rd 500
North Augusta, SC 29841

Kroger Supermarket

1284 Knox Ave
North Augusta, SC 29841

Lowe's

1220 Knox Ave
North Augusta, SC 29841

North Augusta Wine & Beverage

1135 Knox Ave
North Augusta, SC 29841

Walmart

3338 Wrightsboro Rd
Augusta, GA 30909

Target

235 Robert C Daniel Jr Pkwy
Augusta, GA 30909

Petco

4209 Washington Rd
Evans, Augusta GA 30809

Starbucks

1234 Knox Ave
North Augusta, SC 29841

X-Mart Adult Superstore

1367 Gordon Hwy
Augusta, GA 30901


What To Pack:
A power strip. Many of the outlets in the Executive Inn are not near the bed.
Lube (whatever type you prefer), but if you are flying, check all your baggage so you don't have to deal with TSA. Also, remember that it's good fisting etiquette (and safer) when bottoms bring their preferred lube.
A few Puppy Pads to get started. Hit the store on your way to Fist Fest. This will also allow more room in your luggage.
Only a select few toys. More likely than not, you will be playing outside of your room most of the time, and not carry your toys with you. I packed way too many and didn't even use 90% of them.
Sunscreen & Aloe. This pale Midwestern pup got burnt because his skin was not ready for the Southern sun.
A few cute outfits (Just a few!). Again, I over packed on gear. Pick out two or three outfits to wear. Best outfit is a bulldog harness and a jock, and long socks for nighttime.
Tennis shoes & flip flops. I suggest wearing tennis shoes (or boots if you prefer) in the public play areas. (Actually, in the indoor spaces, footwear is required.)
Large pool size towel. Some towels are provided, but they are smaller in size.
Your happy & piggy self. Enjoy the weekend, step out and make new friends.
Tips & Tricks
If you're flying there. Check all luggage that contains any fetish gear. You will more than likely get a TSA inspection tag if you have toys or lube, but it saves the hassle at the security line and possibly having to throw it away.
If you're bringing any sort of shower douche, pack tools to install it in your checked luggage. If you want to carry it on board with you, it must be under 7 inches in length per TSA rules & regulations. If you bring anything bigger, check your luggage to go below in the baggage compartment.If you're bringing any sort of shower douche, pack tools to install it in your checked luggage. If you want to carry it on board with you, it must be under 7 inches in length per TSA rules & regulations. If you bring anything bigger, check your luggage to go below in the baggage compartment.
When you're there. Drink plenty of water all weekend. Especially as a bottom, you will get dehydrated very quickly from the sun and play sessions. (Water is provided free of charge all weekend.)
Walmart sells 28 oz. squeeze bottles in the sports section. They work great! Easy to squeeze, great grip when lube covered and they are only about $1.75. So at the end of Fist Fest, throw them away and you don't have to worry about taking them home.
Don't forget to play nice! Be mindful in the public play area! Please clean up after your session, this includes making sure newspapers or pup pads are located underneath the play area to avoid someone slipping on lube or other liquids. Tops please help the bottom out of the sling or other stand and offer a courteous wipe as well, so they are not dripping lube everywhere.
Author: Pup Kibbles
Twitter: @Pupkibbles
Editor: Larry Shockey
Twitter: @fist_fest